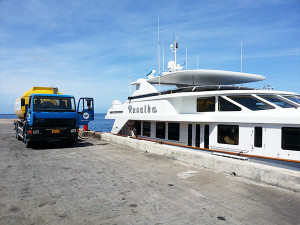 Cabrits Cruise Ship Dock (Portsmouth)
Dominica Yacht Services operate as one of the island's dedicated yacht fuel bunkering providers and can bunker your yacht either from their own dedicated dock in New Town, or for larger yachts, at the commercial port in Roseau or alternatively the cruise ship dock at Portsmouth:

1. The New Town 'Marina' jetty, operated by Dominica Marine Centre, is located south of the main cruise ship dock in Roseau and boats can back down 'stern to' the dock in 14-17 ft of depth and take duty free fuel through West Indies Oil Company. Delivery rates are up to 250 litres a minute and the fuel prices are very competitive. Water, ice, garbage, propane refills and a duty free chandlery are also available onsite. Credit cards are accepted for fuel purchases.
2. Portsmouth Cruise Ship dock: This facility has deep water approaches and very adequate depths at the dock itself, can offer duty free fuel bunkering through the West Indies Oil Company at very competitive rates. All sizes of yacht may find it a useful facility here, where you can also fill your water tanks with good quality Dominican water (This facility becomes unavailable when visiting cruise ships take priority).
Please contact Hubert Winston at Dominica Yachts Services in advance to book in your bunkering requirements.